Samvadini
---
Samvadini's genesis lies in our realization that the resources at the centre were under utilized by grassroots groups and people who were located far away as they were unable to access it. Distance, paucity of resources, and such factors prevent people especially women, from utilizing these resources available at the city centre. Information and knowledge are crucial in the process of social change and lead to self confidence and motivation for action. This is Aalochana's founding premise and in 2008 an innovative program-Samvadini a mobile resource centre-was initiated.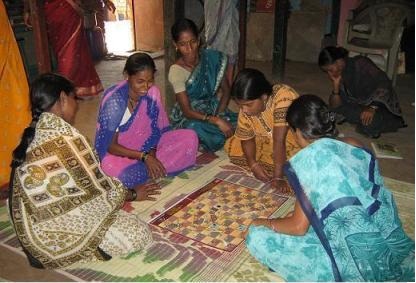 The main objective of the program is to cater to the information and knowledge needs of communities and groups in urban and rural areas in and around Pune. Six grassroots or community based groups (CBO) have been identified and the program is carried out for their communities with their support. Each group has identified its needs and innovative programs are organized every month. For example, most communities identified issues of health, violence, Panchayat raj (Local- Self- Government), and so on.

Each month a jeep with bags of books, films, posters and other material visits the community and holds interactive sessions and dialogues with the women. Sometimes the team stays over in the village and the entire community also benefits from the interactive sessions when they cover issues like Panchayat raj. The dialogues are made interesting with the use of audio-visual materials, posters and games. The basis of all interactions is the participatory method. A circulating library of books is also instituted and is encouraging people of all ages to read.

The program is in its third year now. It is supported by a corporate house in Pune.
---
Visit Aalochana's blog regularly for the latest news, views, and activity updates.